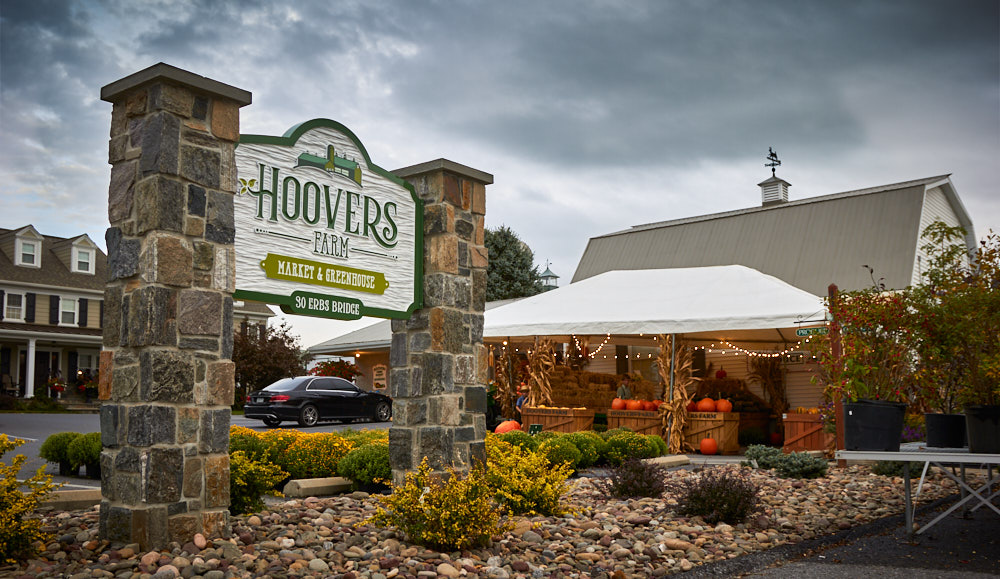 Autumn in Lancaster County means an abundance of fall produce that can provide tasty nutrition for your family. In the fall, Hoovers sells fresh seasonal vegetables like potatoes, turnips, spinach, cabbage, and more.
Many of these autumn vegetables are perfect for soups and sides, or as a healthy, main ingredient in salads that celebrate the harvest.
Of course, pumpkins and gourds are in abundance at our local farm market, a favorite family local spot where kids are welcome to choose their own pumpkins and fall decorations.
Following are some easy, delicious recipes for fall vegetables. Many of these recipes provide a nice side dish to serve with Stone Ridge Beef.
One of the easiest and delicious ways we use our fresh fall vegetables is just to place bite-sized pieces, lightly coated with olive oil and salt, on a roasting pan and roast them in an oven at 375 degrees for about 15 minutes or until tender.
It's one of the best ways to enjoy farm-to-table blessings this time of year.
Potatoes
Potatoes are a good source of vitamin C and potassium, and low on calories. If you soak potatoes in salt water for about 20 minutes before baking them, they'll bake more rapidly.
Some easy ways to eat potatoes: Make potato pancakes, hash browns, and soup.
Potato Cakes
Great way to use up leftover mashed potatoes!
3 cups mashed potatoes
2 tablespoons flour
1 egg
Salt and Pepper to taste (if not already in leftover mashed potatoes)
Mix all together
Heat about 2 tablespoons of oil in a skillet (not olive oil. You'll need an oil that stands up to the heat, like sunflower or canola). Place in pan, leaving enough room to easily flip each. Cook until brown on both sides, similar to how you make pancakes.
Top with sour cream. Super easy. Super tasty!
Hoovers Hashbrowns
4 large potatoes
3 tablespoons butter (or shortening)
1 teaspoon salt
1/2 teaspoon pepper
1-1/2 teaspoons onion powder, if desired
Heat butter in a skillet. Chop the potatoes fine (use a grater or food processor for ease) and place in a skillet. Sprinkle with salt and pepper and gradually add the onion. When the bottom is a golden brown, fold over the mixture using a spatula. Once both sides are a golden brown, slide onto a plate and serve. Makes 4 servings.
Not-Boring Cream of Potato Soup
2 tablespoons butter
2 tablespoons flour
2 cups peeled and diced, cooked potatoes
3 cups milk
1/2 teaspoon salt
1/4 teaspoon pepper
1 cup shredded cheddar cheese or horseradish cheddar cheese
Melt butter and flour in a pan, stirring, to form a paste-like thickener (roux). Gradually add milk.
Place in a slow cooker. Add potatoes and seasoning. Cook until heated through. Add cheese and stir until combined. Serves 6. Top each serving with some crispy bacon and freshly cut leeks, if desired.
Turnips
Turnips are high in fiber and low in sugar. If you hated turnips as a child, we encourage you to give them another shot, especially trunips from Hoovers Farm Market!
Turnips are a low-starch alternative to potatoes. You can substitute turnips for potatoes in virtually any recipe.
Turnips recipe seekers may come across instructions for pureeing them, which is fine, but we feel the secret to tasty turnips is to just roast them. They're not bitter and you'll love the way they let herbs shine. This recipe below uses rosemary, but try thyme, chives, garlic…any of your savory favorites!
Roasted Turnips with Rosemary
4 medium-sized turnips, rinsed
2 tablespoons olive oil
1 tablespoons fresh rosemary, chopped
Olive oil to coat
Salt and pepper to taste
Cut off the greens and the roots and peel off the skin. Chop the turnips into large chunks.
Spread tin foil on a baking sheet spraying with cooking spray. Place turnip chunks onto the foil and pour olive oil over them. Sprinkle seasonings over the turnips and toss gently to coat.
Roast in a 400-degree oven for 35 minutes, flipping them halfway through roasting time. Roast until golden brown or to desired tenderness.
Here's a turnip recipe from Martha Stewart that calls for parmesan cheese with your turnips.
Don't toss out your turnip greens! In a skillet, saute some chopped onions in oil until translucent. Toss in your turnip greens until cooked down (resembling cooked spinach).
Spinach
Often, people saute spinach or they use it as greens in salads. But did you know spinach is one of the best ingredients to add to smoothies?
Spinach is a "power food": rich in fiber, calcium, zinc, and vitamins. Spinach is also high in flavonoids, those super antioxidants that help keep us healthy.
To store your spinach, wrap it in a paper towel and place it in a container. The towel will absorb moisture and help prevent it from wilting too quickly.
Raspberry Smoothie with Hidden Spinach
10 ounce package of frozen raspberries
5 ounces of spinach (rinsed and stems removed)
2 cups of oat milk
2 tablespoons of Hoover's honey
Place in a food processor or blender. Pour and enjoy!
Here's a recipe for Grandma's Spinach Salad. It calls for hard-boiled eggs, so make sure you pick our farm-fresh local eggs. Add some cooked chicken to it and you've got yourself a healthy, easy meal.
Cauliflower
Cauliflower is a power source for vitamin C and vitamin K. It also contains glucosinolates, which are thought to help prevent cancer. Cauliflower can be as versatile as the potato. Because cauliflower is low in carbohydrates, it's a popular ingredient for people on a keto diet.
Cauliflower with Garlic Butter
1 head of Hoover's farm-fresh cauliflower
1/2 cup butter
1 clove garlic, crushed
1-1/2 tablespoons vinegar
Cayenne Pepper, to taste
Salt
Pepper
Wash and cut cauliflower into florets. Cook until just tender, using salt water (about 10 minutes).
Meanwhile, in a saucepan, melt butter and saute the garlic. Cool slightly and then add the vinegar. Sprinkle a bit of cayenne pepper to your liking. Drain the cauliflower and place in a serving dish. Salt and pepper it to taste. Pour butter sauce over the cauliflower and serve.
Here's a recipe that combines the benefits of potatoes and cauliflower: Roasted Cauliflower and Potatoes from Fountain Avenue Kitchen of Lancaster County.
Cabbage
Cabbage is a great source of fiber, phytonutrients (antioxidants and anti-inflammatories), and minerals. It's an inexpensive way to expand a meal with healthy, filling vegetables that won't overpower the plate.
Skillet Cabbage and Kielbasa
(such a quick and tasty meal!)
1 package kielbasa, sliced
1 head of Hoover's fresh cabbage, rinse and cut into large chunks (don't use the hard core)
Oil
Heat oil in a skillet and add kielbasa. Cook until it starts to show signs of browning, then add cabbage into the skillet a bit at a time. As the cabbage cooks down, and more until all is cooked and blended with the kielbasa. Serve.
Cabbage and Apples
1 head Hoover's fresh cabbage, rinsed and cut into large chunks (don't use the hard core)
3 apples, peeled, cored, and cut into bite-size chunks
1/2 teaspoon salt
1/2 teaspoon pepper
Dash cloves
2 tablespoons vinegar
1 teaspoon sugar
Place cabbage in a large saucepan and season it with salt, pepper, and cloves. Add the vinegar and enough boiling water to cover. Cook uncovered for about 5 minutes. Add apples and sugar. Cover and cook on low heat until the apples are tender. Serve.
The best recipe we can offer is to take family and friends, gather them together, and add some fun. We hope Hoover's Farm Market plays a part in your fun celebration of the fall season.